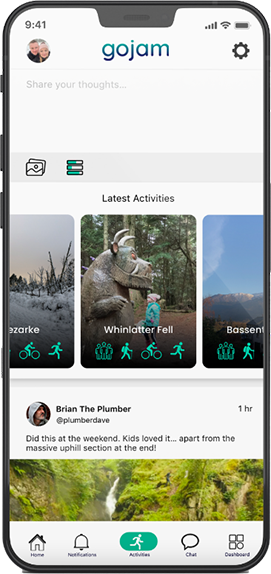 The 'Great Family Activities' App
Gojam is a social network created specifically to help parents find fun activities for their children. All kids love to go exploring, and gojam provides a wealth of recommendations on where to take them!
You can also share your own special places and receive thanks from other grateful parents, as they share their experience of the places you recommend.
Recommend fun places for other families to visit
Receive activity recommendations from other Parents
Plan a fun-filled weekend your children will love
Create amazing family memories
Access local routes and activities wherever you are!
Join The Family Activities Community

"Absolutely fantastic! We're an outdoors family and can be found in the lakes most weekends. We always relied on OS maps in the past, but gojam gives you all the hidden features maps can't"

"I live by this app! Its been so helpful finding things to do near me. Every activity has recommendations made by other parents.

You get everything from big attractions to hidden gems… and even tips on the best places to park! I love gojam!"

"I love gojam! Its been so helpful after lockdown. Our family has an adventure EVERY weekend!"