Recommend fun places
for other families to visit
Plan a fun-filled weekend
your children will love
Receive activity recommendations
from other Parents
Gojam Activities App Features
gojam is packed with features to help you and your family get the most out of precious moments together. No more searching 'things to do' – gojam makes planning activities easy, sharing insights and recommendations with other users, so the only thing you need to do is choose where to go next!
Suggest great activities for other families

Receive activity recommendations from other Parents

Plan and promote your community events

Create polls and gain feedback on outdoor activities


Create a network of outdoor-loving friends

Receive exclusive offers on outdoor equipment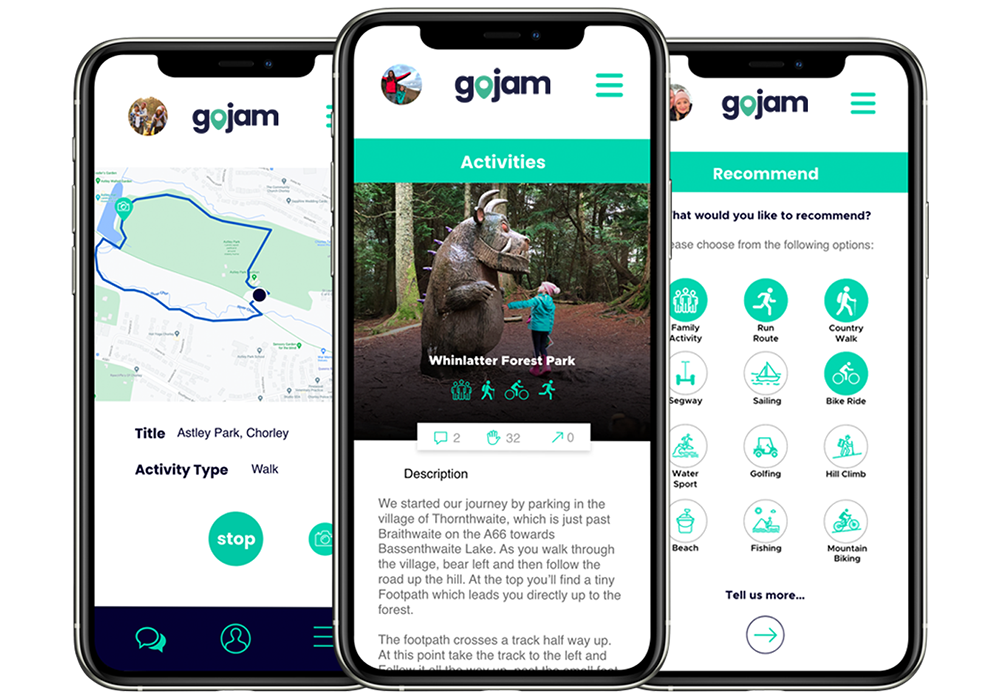 Preparation is crucial to having the perfect day out. This is why gojam features a built-in chat application, so you can discuss and share new activities with your friends and family network. Organise where to go, where to meet up and, most importantly, who is responsible for bringing lunch!
Plan your next trip

Suggest activities to your friends & family

Raise awareness of your events

Request information from other users

Create a network of outdoor-loving friends
Tracking a Route Is Easy!!
Once you arrive at your destination, simply open the app, start your route tracker and gojam will record your entire route. You can add comments and photos from your activity before posting a recommendation for other users to follow and share!
Share hidden gems with other users
Photograph special places
Share tips based on your experiences
Benefit from true local insights
Record special holiday memories
Join the family activities community
"I live by this app! Its been so helpful after lockdown. Each activity has honest recommendations made by other parent's.
You get everything from big attractions to hidden gems… and even tips on the best places to park! I love gojam!"
Emily, mum of 2 from Lancashire
"I live by this app! Its been so helpful after lockdown. Each activity has honest recommendations made by other parent's.
You get everything from big attractions to hidden gems… and even tips on the best places to park! I love gojam!"
Emily, mum of 2 from Lancashire
"I live by this app! Its been so helpful after lockdown. Each activity has honest recommendations made by other parent's.
You get everything from big attractions to hidden gems… and even tips on the best places to park! I love gojam!"
Emily, mum of 2 from Lancashire